I have been working on this off and on for a few months, and decided it was time to share my work thus far and ask for new ideas. If you want to get to the good stuff, just skip down to the pictures. Otherwise, I have an informative preamble for you.
I am a 28 years old male. And, I would assume, like most people on here, I have been interested in bondage/ chastity belts since my teens. I think it is just something you grow up with. At the time, I didn't know about chastity belts per say, but I did very much enjoy the feel of an athletic cup/jock strap. Skip forward a few years, and while browsing the internet I came across Altarboy's page (now long dead) which talked about chastity belts and making them, and I have been hooked since.
Being broke in college, I had no money to buy one, so I decided to build one instead. I had no idea what I was doing, but the internet gave me lots of ideas. The full metal belts looked appealing, but were well beyond my capability. The best I could do is make some PVC piping and chains which were not comfortable or practical for any use.
I tried using athletic cups, but the problem with those is that they dig into your thighs when pulled tight. Furthermore, I was never able to find a cup that had room for the penis to lay down between the balls. Every design (including nutty buddy) has your penis kinda squished up at the top. This is fine until you get an erection, then the cup doesn't sit down fully. If you strap it down, then it just gets really uncomfortable really fast as your penis has no where to go.
The problem is most cups are designed to be as low profile as possible, So they are flat and wide. The flat doesn't give you room, and the wide just chafes your thighs. There is also the problem that the edges of the cup are shallow compared to your skin. As such, it is easy for your scrotum skin to expand, and get caught under the edge. Which hurts a lot.
I looked at the ball trapping devices (CB 2000 and all the ones that have come out since) and those didn't look too appealing. They pull off very easily if you go limp. And if you get an erection, they put a lot of force on your balls, which I always found to be very sensitive. I am not a masochist, so being in pain while having an erection doesn't appeal to me. I am looking for that gentle control, not painful backlash. And of course those devices could easily be circumvented by nothing more then cold water, making them pretty useless.
Fast forward a couple more years and I got a real job (aerospace engineer) with some money to spend, so decided it was time to get a real chastity belt. The ball trapping devices have improved some, but they still rely on squeezing your balls and can be easily pulled out of. So, that's still a no go.
Meanwhile, the quality of full belts seems to have declined. The belts that I used to look at, like Latowski and Reynolds, seem to have gone out of business. Most of the belts available today seem to be just crude penis tubes fashioned to steel plates that cut between the legs. This of course would have problem as there is nothing to prevent your balls from getting stuck/chafed/squished, and also the force holding everything down rests on the base of your penis which causes irritation.
The best I saw was My-steel's untouchable. But that has problems like your urine going all over your scrotum. Their ball cover also has a very thin edge which means the force holding everything in place is very concentrated. Also, there didn't seem to be anything to prevent the scrotum skin from expanding and getting pinched/caught.
At the same time, I am an engineer, and wanted to expand my nerd capabilities, and I was looking at 3D printers. So, I decided to get a 3D printer, and make my own chastity belt. I figured it would be better for the following reasons.
1. I could make a full belt that covered the genitals completely. This is always something that I wanted, like a Latowski or Reynolds. I want to not be able to see or touch anything.
2. I could make it a custom fit, so that I wouldn't have to worry about chafing or trying to get it refitted.
3. I could make the cup with thick edges that distribute the load evenly over a large area. That way I can pull it tight and get a secure fit without causing discomfort.
4. I could include a lip on the inside of the cup that would keep the scrotum in place and prevent it from pinching.
5. I could have a separate chamber for the penis that led directly downwards, thus not spraying urine anywhere
6. I could have a gap between my scrotum and the penis tube, so it wouldn't press on the soft and tender underside section where the scrotum and penis meet.
7. I could wear the device as protection for when I play sports (not often, but occasionally). And for that you want a thick arched section (not thin sheet metal) and a large area to spread the load over. I didn't see anything like that in any of the belts on the market.
Basically, I wanted the belt to look like a latowski (see below), but with a thick outer shell instead of the sheet metal, and with tuck under sides to prevent scrotal pinching.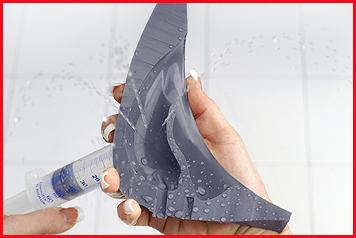 So, I started with trying to get the shape of my thigh to know where to put the cup perimeter. This would be a job for a 3D scanner. But I don't have one of those (would definitely get one if I were to make a business out of this). Instead, I made a template using some thin bailing wire and duct tape. The same way you would make a template for a corset. Needless to say, it went poorly, but I got some measurements and did some CAD. I then made a template and printed it out. my first attempt looked like this:
Front View
Side view.
As you can see, there is the tuck under where it goes underneath me, and a hole for my penis/scrotum. It turns out that I got the curvature wrong as it didn't fit well. But it gave me something to tweak.
A couple tries later, I had a better curvature, but was having problems with chaffing on the thighs if I tried doing any physical activity. So, I tried making it a bit thinner:
Front View
Side view.
Better, but not quite. Still some chafing, but not so much from the width, as the sharp edge. Also, the hole needed to be bigger. So, I tried it with more rolled edges:
Front View
Side View
After I had a comfortable base that I could wear for a couple hours and do physical activity in without it chafing/hurting, I started making the cup. The perimeter (part touching my crotch) of the cup follows the same contour as the above examples.
Here again, I went through multiple iterations. Here is one of my early ones:
This is a side view, cut in half
As you can see, at the base of the scrotum, there is a little back flap. This helps to both distribute the load from the cup over a wider area (more comfortable, and better for sports impacts) as well as prevent the scrotum from getting caught and pinched. So I printed it out, tried it on, made some notes, then threw it in the trash as it was very uncomfortable.
I had to adjust both the angle and the height of the penis tube. As you can see in this example, the penis goes almost horizontal before bending down. I found this to be very uncomfortable when getting an erection as it basically forced your penis to do a 120 degree bend. I also misjudged the appropriate height of the tube. And my balls were pretty squished in tight.
So, a few iterations later, and some more failed prints/test/etc. I came up with something like this:
It felt better. As you can see, there is more room for the penis, and the bend is far less severe. It looks more like a latowski now, and I guess I know why he designed it that way.
However, there where still problems with things being cramped in the ball section. Also, the penis tube kept feeling too tight up top (especially with that sharp inlet edge) and too loose at the exit. Likewise, the scrotum back flap looked kinda flimsy, doubtful it would help much in an impact. And the front shell was way to thin (1/8") to distribute and loads.
So a couple trials and attempts later led to my current design:
Note the beefier front section and back flap. Also, the cross section of the penis tube decreases as you go further down (much like your anatomy) in order to provide a good fit. I also came up with a solution to the ball area. By introducing a bulge as seen here:
This is a cross section view looking top down, cut half way down the penis tube.
As you can see, the bulge outwards added about half an inch (its alot) width without increasing the width pressed against the thigh. Thus you get the width for the balls without chafing. At the same time, it also had the benefit of creating a lip to prevent the scrotum from getting under and being pinched at the sides.
You can see the model compared to the actual print here:
I have worn this cup with a jockstrap off and on (2 days maximum) for a few weeks now and it fits very well. But being an engineer, I have tried to do even better. I attempted to make a silicon liner, with a plastic backing. The first attempts failed badly. I didn't get the pour right, I got air bubbles trapped, I had seams in all the wrong placed. So after several retries, and spending alot of time reprinting molds over and over, I am still not there yet. But here is where I am at:
The red would be the plastic. The blue would be the silicone insert. I have gotten decent results, but only with low viscosity silicone which aren't food/medical grade. To do it properly, I will need a vacuum pump, which I just ordered. If you want to see part of the mold, it looks like this:
Single part mold for penis/scrotum cavity/belly plate. This eliminates all seems where it touches my skin (lesson I leaned)
Doing the silicone insert has a couple advantages, For starters, you can much more easily polish a male insert than the inside of the tube, leading to a smoother finish. You can also use cheaper ABS which polishes up nicely for the mold, and stronger Nylon for the belt. Thus getting smoothness where you need it, and strength where you need it. It is also probably better to have your skin against food/medical grade silicone than plastic for long duration. And lastly, the ability of the silicone to flex means you get less pressure points, especially at the base of your scrotum/penis where the sharp(ish) edges can cause tenderness.
So, now I need to figure out what to do next. I have a couple ideas, including:
1. Add lots of air/ventilation holes to the scrotum section. Small enough that the skin can't get caught, but large enough to get some fresh air and drain water (which it can't do currently). But this will be tricky if I want to use a silicone liner, so need to figure that out.
2. Add a fluid injection system for the penis chamber (like Lawtoski has). I need to figure out a good way to do that. But it would allow for rinsing and adding more mineral oil (baby oil), which really helps keep it comfortable.
I also need to start working on the belt itself. That is where I am having some problems as the hip is a complex 3D shape and plastic can't easily bent into shape like metal can. A 3d scanner might help, but those are expensive, I have been trying to use 123D Catch to take some images, but that doesn't work as well as you might hope.
I was thinking of maybe going with a cloth harness that I could sow loops into and hold the belt up. Something like a cross between this:
https://www.indiegogo.com/projects/ar-w ... an-be-worn
and a hernia belt. It would be more breathable than plastic, but might also retain more moisture after showers. I don't know, I haven't figured that part out yet. Any suggestions welcome.
So, that's all I have for now. Feel free to ask questions, or give suggestions for improvement.